Calling all aspiring Writers, Scribes, Reporters, Wordsmiths and Teachers!
UPDATE: Hi there Nook - let's hear from you! Even if you've expressed interest before or are working on your article, drop me a note. Thanks again to all of our talented authors!

As a reminder, most any topic is fair game but here are a few guidelines:

> No product reviews (they have a home of their own)
> Topics should be related to our little hobby but don't necessarily have to be limited to

shaving

. In fact, let's broaden it to anything related to

grooming

!
> Think "How do they do that?", "What's the best method?" or "What does that mean?". Also, "Where is that made?", "What else is interesting about that part of the world?".
> The Mod team will coordinate scheduling and review content prior to posting.

Post your ideas or willingness to help here or, if it's more comfortable, send me a PM. We Mods will periodically update this thread and choose new topics for the page.

Thanks Nook!!
Billy had posted this awhile ago and I figure it is time to post it again.
The Horsehair Shaving Brush Movement
Allow me to introduce myself -I am Oscar Julian, owner and the third generation of my family to operate Vie-Long. Vie-Long has been the leading Spanish manufacturer of shaving brushes since 1940. From the very beginning, our specialty has been the production of horse hair shaving brushes. While we produce badger and boar shaving brushes like all the other shave brush manufacturers, we are the worldwide leader when it comes to horse hair shaving brushes.
Several weeks ago Phil Huntsinger of BullGoose Shaving asked me to write an article about horse hair shaving brushes. I would like to thank Phil for allowing me the opportunity to write an article for the Shave Nook shaving forum to discuss the production of our Vie-Long horse hair shaving brushes
The most important thing about the Vie-Long horse hair brushes is the soft tips that we obtain thanks to our final process of production that we apply to the tips.
We produce our horse hair shaving brushes differently from other manufacturers which is why other manufacturers are unable to produce horse hair brushes with such soft tips. I regret to tell you that I cannot explain the process in detail because it is a trade secret, part of our Know How. We combine modern technology with a careful and traditional handcrafted manufacturing process which strengthens our brand and product prestige in both local and international markets.
Vie-Long horse hair brushes have really caught on with those who are concerned with the humane treatment of animals. Horses are not killed or harmed during collection of hair (unlike badger and boar). The "hair cut" is part of the horses' care and hygiene. We have seen a surge of interest in horse hair brushes over the past few years and suspect that the "movement" will continue to gain in popularity.
Vie-Long horse brushes have a very good quality to price ratio. We can get a brush with an excellent combination of firm hair and soft tips with a very good price point. The smoothness of the tips is like the best badger brushes but the price is close to the boar brushes. In addition, Horse hair allows very good water retention, much better than the synthetic brushes. As such, we recommend the Vie-Long horse hair brushes for both creams and hard soaps because the brushes work very well.
We produce Vie-Long horse hair brushes in 3 different varieties of natural horse hair; white, black and brown.
The quality of the 3 colors is the same, with the same backbone and softness. We mix the hair of mane and tail to get the quality that we need for the production of our Vie-Long horse hair brushes. The percentage is around 35% mane and 65% tail but it is not always used in the exact same percentage in every production - it depends on the raw material received each time. The softness is obtained thanks to the mane and the backbone thanks to the tail.
Our supplier of horse hair is located in Spain and the horse hair come mainly from Spanish horses. The horse hair also comes from South America and Arabian countries where there is a large equestrian tradition. All the hair is sterilized before it is used to make a brush.
Have Synthetic Brushes Come of Age?
When I took up wet shaving seriously several years ago, I gave little thought to acquiring a synthetic brush. Based on the reviews I read of them at the time, they were easy to dismiss. They seemed to be at the low-end of desirability, but adequate for shavers with allergies to animal hair or shavers who objected to using animal products. They also had notable drawbacks that were well-documented in reviews at the time.
I built a small collection of badgers and boars over the next year or so while I looked for a razor that would suit my needs. In 2011, I found the razor I wanted, and discovered a German company called Mühle. Their catalog described a synthetic brush with Silvertip Fibres
®
that were claimed to closely imitate badger. I bought one of these early versions, and was very impressed. My curiosity about modern synthetic brushes increased.
The New-Gen Synth Project
In March of last year, I heard from other shavers that they were trying new synthetic brushes that showed improvements over older synths. I invited a team of experienced shavers to join me to collect and test as many new synthetics we could get our hands on. The team included Gary Carrington, Wim Bouman, Teiste Brito, Mark Herro and myself.
In most cases, we purchased the brushes we tested and then traded them back and forth as we could. Not all of us tried every brush given time constraints, but we trusted each other's evaluation skills. In all, we tested 15 different brushes from nine manufacturers. We also looked at a few pre-production prototypes that we could not report on. We did the best we could to give each member the broadest exposure possible.
During the course of our 100-day testing period, we collectively conducted over 400 tests. All of us found significant improvements over earlier generations of synths. The team did identify differences between the brushes that were part of our tests, and drew contrasts with synths we had collectively tried in the past.
I asked that the team to consider two questions:
Have synthetics brushes come of age?

Do they have qualities that are as good, or better than their natural counterparts?
Team member Gary Carrington developed a classification system to categorize the different generations of synths. It is summarized here with his permission:
Generation 1 knots were made of base Nylon which was developed in the late 1930s and early 1940s. One examples is the Omega White Syntex Line.
Generation 2 came out in the early 2000s. Taken from the cosmetic industry, these nylon brushes were flagged more at the tips to allow a softer feeling and some were dyed to approximate a more natural look. The early MenU, Body Shop, Parker synthetics used this fiber type. They are prone to "doughnut holes" while wet and are not strong performers.
Generation 3 knots came out in the mid-2000s. Also derived from the cosmetic industry, these nylon brushes were flagged more at the tips to allow a softer feeling and some were dyed to approximate a more natural look and feel. Closer to badger but not exactly like badger. The fibers tended to be thinner so that more hairs could be packed in a bundle for a denser brush. The performance of brushes using this version improved dramatically. The Jack Black, TGN, Omega Syntex, and a variety of other makers use this fiber to create high performing brushes.
Generation 3.5 arrived when Mühle began to crimp and adjust the lengths of the fibers to create a brush that looks and behaves more like natural hair. These brushes are now commonly referred to as V1 versions of the Silvertip Fiber. This is a much higher performing brush than brushes using Generation 3 fibers. These came out during the 2010-2012 time frame.
Generation 4 knots became available this year. These are found in the Mühle V2 Silvertip Fibre brush series and are believed to be in current synthetic brushes offered by Edwin Jagger. These fibers are flagged even more at the ends to increase softness and to improve lather application. The fibers are also more flexible than what is found the third generation knots, and this allows lofts to be shorter and provide excellent backbone and face feel. Brushes by H.I.S. also have a similar, if not identical fiber with different dying, finish and lofts.
Here
is the full text of Gary's work.
Results
I won't attempt a detailed summary of our findings here, but readers who are interested can find the three-part series
here
. I will say that we all found significant improvements in the following areas: attractiveness in design, more natural appearance, softness of tips, overall performance, higher density, better backbone, faster drying time, and economical use of soaps and creams.
We determined that several manufacturers were producing synths that were significantly improved from the previous generations. Among them were Omega, H.I.S., Edwin Jagger and Mühle. There may be others, and I would like your opinions on this—we were limited to the 15 brushes that we were able to acquire during our limited testing period and personal budgets.
Best of the New Synths—Mühle V2 Series
After our findings were published and the project ended, we saw new and exciting synthetic brushes become available. In my opinion, they are the finest synths ever made. They are commonly referred to as the Mühle V2 series of brushes, and they differ in several ways from any previous synths. I believe the current generation of Edwin Jagger brushes shares the same knots.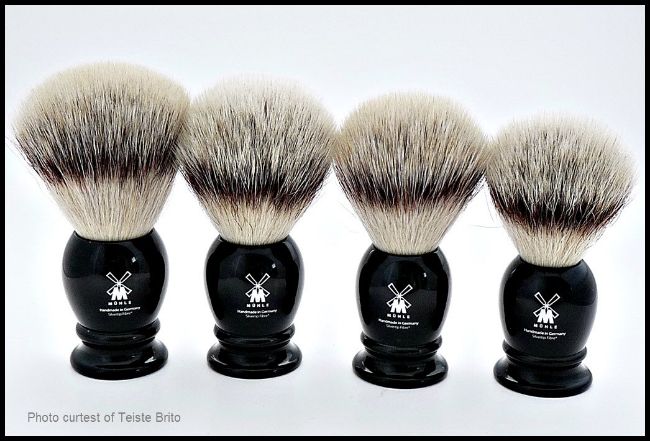 These new V2 fibers are thinner than in any previous synthetic brushes, as well as being more tapered. Thinner fibers allow more to be packed into a given knot size, and result in improved density, backbone and face feel. There is an experience of luxury when using these brushes, like no other synth on the market. They feel soft and silky both dry and wet.
Thinner fibers are also more flexible, and do not require the characteristic high lofts of other synths. The V2 lofts more closely resemble natural hair brushes due to Mühle's fine-tuning and engineering.
Finally, the V2 series so closely resembles natural silvertip badger hair that they are difficult to distinguish from natural-hair badger brushes visually. Their handles and overall quality make them even more appealing.
I won't attempt to review the new Mühle V2 series brushes here. Teiste Brito will be doing that here on ShaveNook in a separate
thread
. I will contribute my review points there.
When this project began, I asked two questions. A year later, with the introduction of Mühle's V2 series of brushes, the answer to both questions is a resounding
YES!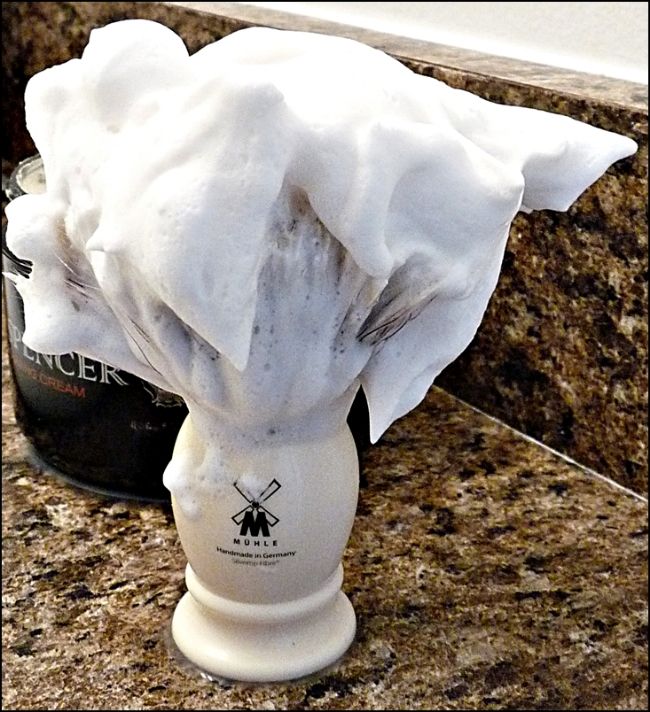 A special "Thank You" to Gary Carrington for allowing me to draw liberally from his writing, and for all his work on synthetic brushes and other contributions to the shaving community. I am also grateful to Teiste Brito for allowing me to use his excellent photos.
Gentlemen, I recently had the pleasure of doing an interview with Ed (Weber Razor).
I often found myself wanting to know a little more about Ed and his stainless artwork, so
I figured why not ask for an interview to share with the wetshaving world.
He happily agreed, so without further adieu...
Ed, thank you for taking the time to discuss Weber razor and share a little
about yourself with us. There is a cult following of wetshavers who absolutely
love your razors and handles, myself included. The latest batch of DLC was
like the release of a new iphone, I typed as fast as I could to get my
order in before they sold out again. I am sure amazon's server was on the
verge of crashing once your tweet was put out there!!
On a serious note,
as wetshavers we can't help but let our curiosity get the best of us,
so we would like to know more about the man behind the curtain, and the
wonderful shaving tools you elegantly craft for us...
Jeremy:
Please, tell us a little bit about yourself Ed, what got you into
traditional wet shaving?
Ed:
I started wet shaving around 30 years ago with a hand me down Gillette TTO
adjustable slim razor.  Back in the early 80's blades seemed harder to
come by and I would bounce back and forth between DE and an old Schick
injector model.  That was before the Interweb changed the world and now
there are so many options in blades and razors, it really adds to the fun
of the hobby.

Jeremy:
Are you a machinist by day or is the Weber company more of a hobby for you?
Ed:
Our razor business is still a part-time operation.  We came out with a
machined open comb razor back in 2010. It had a 'W' on the top of the cap
and you either loved it or hated it (most people leaned toward the
latter).  We started offering the closed comb version in 2011 and we have
far outpaced the sales projections that we had.

Jeremy:
What prompted you to start the Weber razor company?
Ed:
Back in 2010, there seemed to be only be a few larger companies, mostly in
Germany and England, that were producing razors.  We thought it would be
interesting to produce an all stainless steel razor here in the US and
price it competitively with the chromed models.  Since I was interested in
wet shaving, it seemed like a good choice for a small business.
Jeremy:
Your razors stand out from the modern stainless crowd due to the
techniques used to manufacture them, the three handle variations you
offer, and most notably, your coatings. This brings up my next question,
why DLC and ARC? Prior to you coating your razors, these were terms we
never uttered on the shaving forums. What prompted your offering of razors
with these fantastic and very interesting coatings?
Ed:
We were familiar with DLC coatings on higher end watches and that it was
used in the medical industry.  It's hardness and lubricity seemed like a
good fit for use on our razors and we like the color contrast of the
handle with the black head.  We started out with the classic style handle
and soon received lots of requests for the bulldog style and a color
matched head.  We started producing the ARC heads but now have settled on
the un-coated polished version.  Recently we introduced the Wave style
handle and we are definitely pleased with the response.
Jeremy:
What is your personal favorite Weber razor?
Ed:
I used to like a longer style handle (like the Slim) but in the past year
have really started to prefer the shorter, fatter bulldog.  My current
razor is the polished head with bulldog handle.
Jeremy:
What does the future hold for Weber razor in your eyes? What can we expect
to see a year or two down the road, any special plans for other coatings
or razor designs?
Ed:
We plan on sticking with the closed comb all stainless razor for the
foreseeable future.  The feedback on the color matching polished heads has
been very favorable, so we will be focusing on that as our primary
offering.  We plan on continuing to offer the 3 handle styles (classic,
bulldog and wave).
Jeremy:
Is there anything else you would like to add?
Ed:
We'd like to thank everyone for the support this past year and we are
looking forward to a strong 2013.  A few years ago when we started selling
our razors, there was a noticeable void of US producers.  Now we are
seeing something akin to the micro brewing industry with new US producers
like Tradere and Above the Tie entering the market and offering the wet
shaving community more options, which is a good thing.
Well, I guess that's a wrap! In closing, let me say that I intend to fully
support any and all future endeavors Weber razor might offer. On behalf of
the entire wetshaving community, thank you Ed! Here's to a long and
wonderful future for the Weber Razor company!