Everything has been sold
Gillette Blue Tip 1956 (B-3)
: This 3rd quarter 1956 production Blue Tipped Gillette Flare Super Speed has a light weight aluminum handle which makes it a milder razor than the standard flare tip and red tip models. This example is in acceptable condition. A couple of steps above a user model. It has some wear places at the very end of the TTO knob where metal can be seen through the Blue paint. These are small but visible when you look closely. They are there and I want to describe this razor so that you can say SWEET when it comes in and not be disappointed.
Condition: Above average condition. Small areas of blue paint loss in points on the bottom/outside of the TTO knob.
Price: $23.00 Shipping included to
USA only
NOW $21.00 shipped
Brush and Cased Flare TIP are SOLD
---
Vie Long 13061 horse hair brush
: Specs: Knot 23mm Loft 57mm. Overall height 100mm. The horse hair used in this model brush by the Spanish maker Vie Long is some of the softest I have come across. It rivals the softest badger brushes I have tried. This brush will stand toe to toe with any badger in a lathering bowl and will best all except the highest quality badger brushes. An amazing brush but unfortunately for me it is "just another great brush".
Condition: As new condition in factory box
Price: $34.00 including shipping to
USA only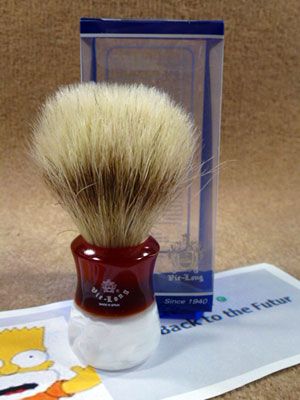 ---
Gillette Cased Super Speed Flare Tip 1960 (F-1)
: This 1st quarter 1960 production Flare Tipped Gillette Super Speed has a standard weight handle which makes it the middle razor in the Blue, Silver, Red tip model line up. This example is in near mint condition and comes in its original clear top plastic case from 1960. I cannot find the blades that came with it but they were the blue and white Gillette blue blade dispenser so it is being sold as a razor and case only. The razor opens and closes as it should and it shaves like a new 53 year old razor should shave. I have shaved with this razor 2 times since owning it.
Condition: near perfect condition. still squeaks when opening and closing the TTO doors.
Price: $26.00 Shipping included to
USA only
---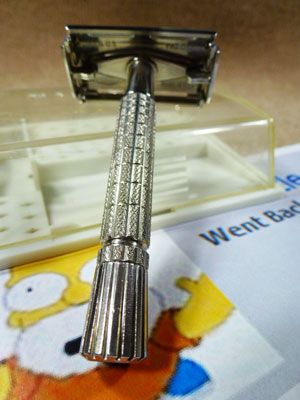 ---
Users browsing this thread: 1 Guest(s)