[center]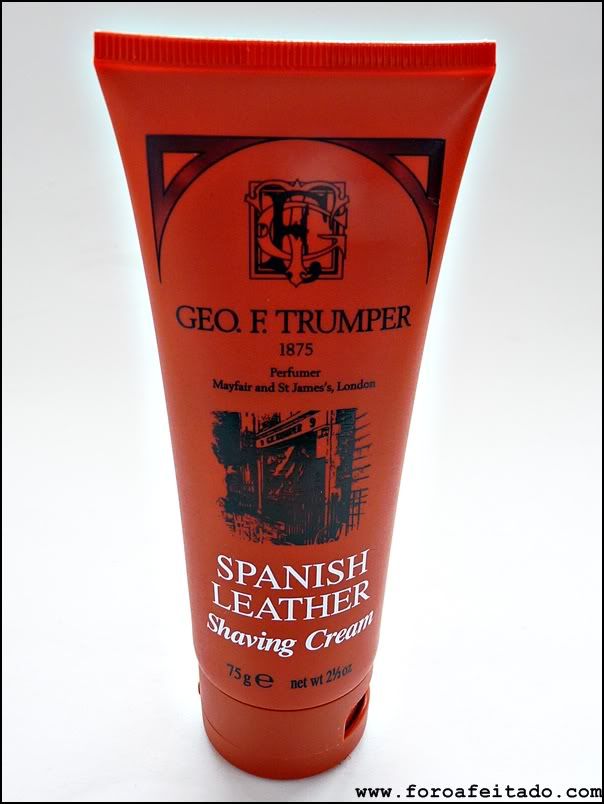 [/center]
I did received this shaving cream from <!-- w -->
http://www.bullgooseshaving.net
<!-- w --> a couple days ago and I had the chance to used it today.
First,Im surprised about its new presentation,since the plastic tube comes without a presentation box,like the other Geo F. Trumper shaving creams or the Harris shaving creams.For me this is a poor presentation,to be honest,even when I like the plastic tube better than the metalic tubes,but I miss the cardboard box,which gives a plus of elegance and tradition.
[center]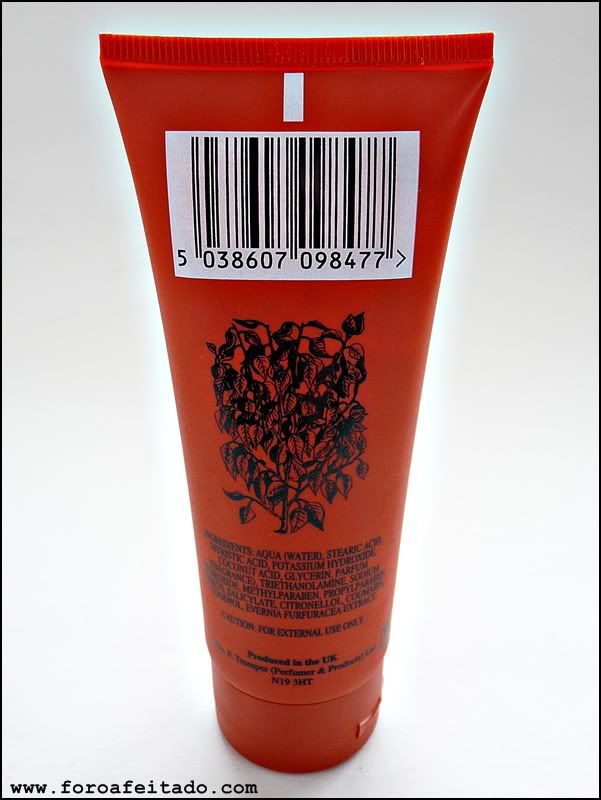 [/center]
As you can see the tube has a dark orange color ,close to a saffron color.
The crema ingredients are basically the same than the other Geo F. Trumper shaving creams,and its still surprising that they havent removed the parabens,even in this new shaving cream,as you can see :
[center]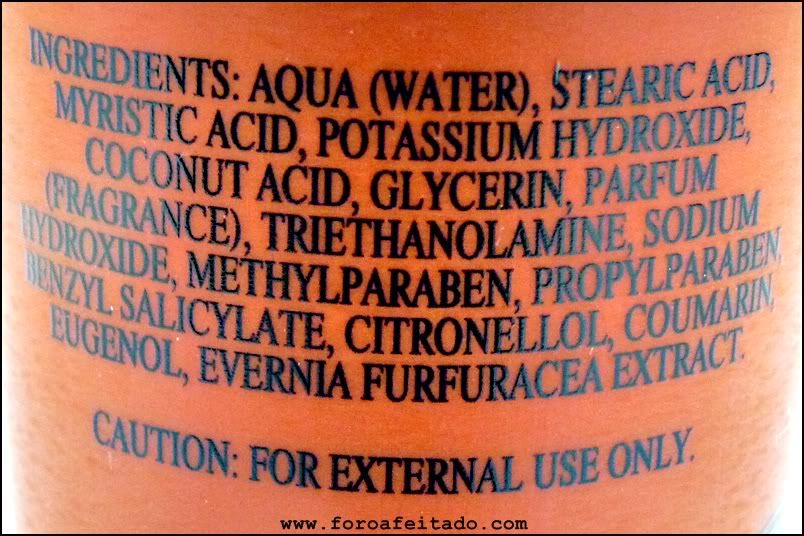 [/center]
The shave today was pretty mediocre,skin care wise and odor wise,specially odor wise.This cream doesnt have the scent that I was expecting it,to be honest.
Making lather with this cream its really easy,Heres a pic with a Vie Long 16910 silvertip brush with a small amount of cream :
[center]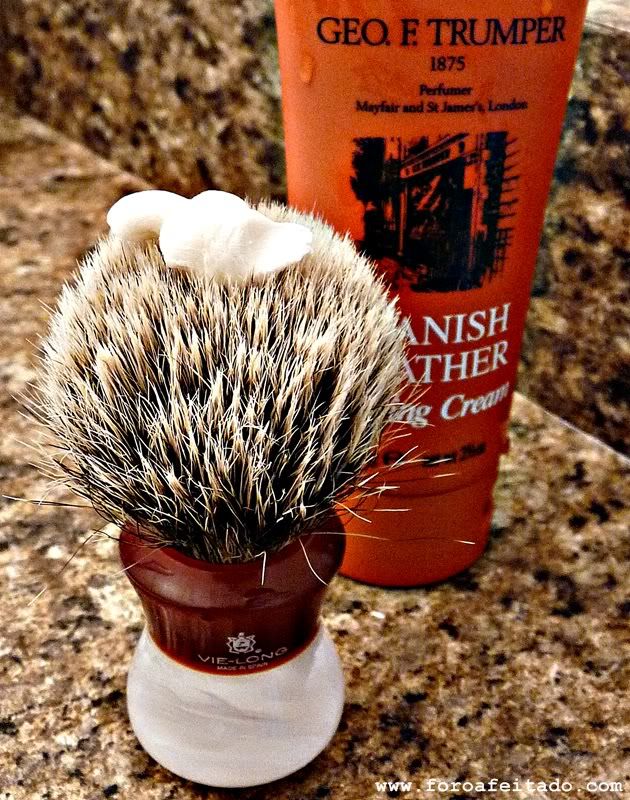 [/center]
and this is the lather I did make,enough for 4 razor passes :
[center]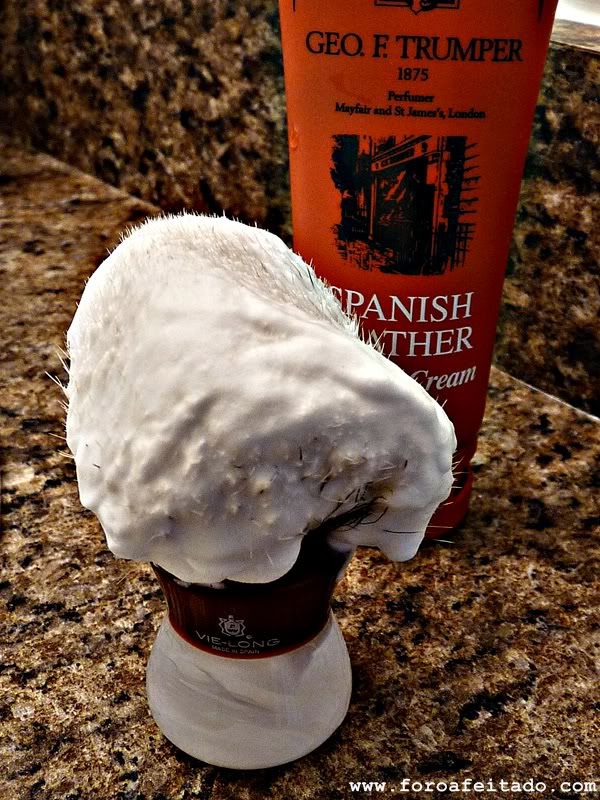 [/center]
I find that this lather its not as slick as the D.R. Harris lavender or almond shaving creams,but more like the Arlington or Marlborough ones,and really behind than the T&H ones.
And the worst is its scent,which its really simple and basic.Smells like an old barbershop,with some woody and spice notes,with not lather notes on it,and its not a really strong or complex,but simple and even weak.Its scent doesnt last through the shave.Its light years behind other famous creams scents like the T&H Grafton,1805 or Trafalgar,the TOBS Jeremyn Street or the Harris Arlington.
My skin was dry after the shave,but this is something that I knew it could happen,since I have a really dry skin and not every cream provides me a "free dry skin" after shave care.
---
It's a shame Teiste, a product that is so poor, especially for those who hydration and protection is very important.

But as always thank you very much.
---
I guess I'm going to have to disagree on the scent of this cream. I found it quite bold, in fact one of the heavier scented products I use. It also seems to be a fairly good representation of the cologne it is based on as well.

The actual shave properties were in line with most of the other Trumper's creams I've used in the fact that they are not highly skin conditioning, but I don't find it detrimental in any fashion when I use it.

Just goes to show how scent is YMMV I guess. Sorry you didn't enjoy it very much. I did see where they just came out with a Eucris shave cream as well.

I will repurchase when this first tube I bought is used up.
---
Users browsing this thread: 1 Guest(s)