I have a few items here that I would like to sell or trade. Prices include shipping via Priority Mail in the US. Overseas buyers will have to pay for Priority Mail International. Please pay using Paypal.
----------
TRADE DETAILS
I'm looking to trade for a smartphone from the list below. It has to work on the AT&T network or be unlocked.
Preferred: Samsung Galaxy Note series of phones - Note 2 or 3 preferred.
Or Samsung Glalaxy S3 or newer, HTC One, or some other new Android Smartphone.
Also, a Blackberry Z30 would be welcome.
----------
Here are the items for sale.
4) Merkur Vision 2000 - $120 shipped US
This is a Merkur Vision 2000 in the box in like-new shape. I really love this razor, but it deserves to be used more than it has been in my den. It is in perfect shape and works really well.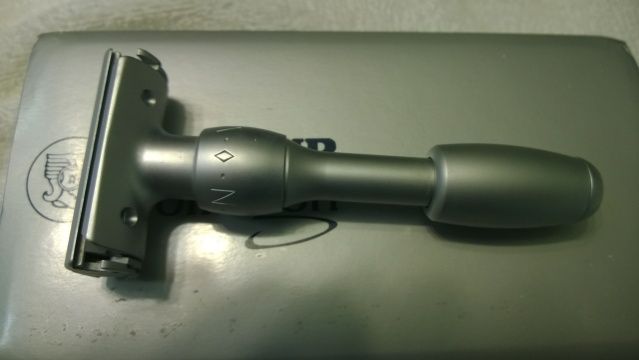 SOLD!! 2) Feather AC SS/CJB Kit - $150 for the set
Here we have a set of two razors and blades. You get a lovely Feather AC SS folding razor, the CJB (Feather Clone) non-folder and a bunch of blades, which will allow you to sample the full range of available AC-type blades.
The blades include:
20 Feather Pros (unopened)
20 Feather Super Pros (unopened)
20 Kai Mild (Pinks, unopened)
20 Dorco (unopened)
15 Feather Pros (opened)
12 Feather Proguards (opened)
This is a good deal on the whole set.
SOLD!! 3) Unknown German Slant - Cased - $60 shipped US
I've heard this referred to as the Merkel Slant. I like it, but it doesn't see much use. This one has been used less than 5 times. Comes with the case.
SOLD for $775 - 1) Tim Zowada Damascus - 6/8"+ Round Point --
This is a lovely Damascus Steel straight made by Tim Zowada. When you buy a Zowada, you're buying a unique item. The steel is forged by Tim, and then he makes the blanks and razors. The razor is made by him from start to finish, and his skill is amazing.
This razor has the most beautiful, deep etched Damascus pattern I've ever seen. The swirls are mesmerizing - even on the tip! You'll seldom see something this beautiful.
The blade is a 13/16" wide blade, 1/4 hollow, with a round point. It has a thumb notch and is shoulderless. Every bit of it is lovely from the tip to the the tail. The scales are wood, and are lovely too. The razor is shave-ready.
The blade comes in a box, as pictured. There is no damage to any part of the razor or box. I'm selling it for $100 less than I paid for it.
Please let me know if you need more pics. Unfortunately, my photography skills cannot do this razor justice.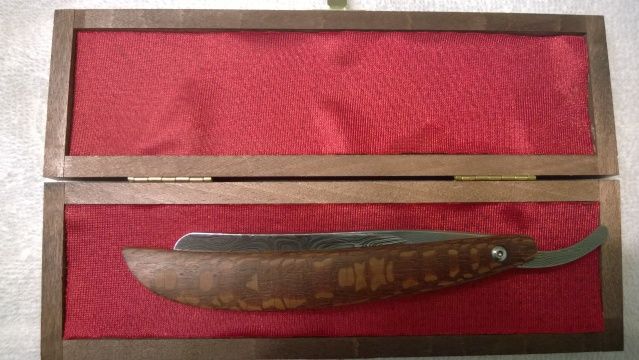 ---
Users browsing this thread: 1 Guest(s)