I was recently able to snag two Valobra Vitamin A soap bars for
$7 for both of them including shipping
(which is a very decent price seeing that one sells on Amazon for about $17).
Received them in the mail today and wow...this is a
fantastic
soap.
I've never used any of the other Valobra products - like their shaving soap - but if that is anything like this my face would be in for a treat.
Valobra has been making soaps since 1903 so one would hope that they have learnt a thing or two over the past 111 years.
Right off the bat the packaging looked really elegant....Italian if you will:
Obligatory sexy pose photo
The soaps are wrapped in a nice waxish paper and even before you unwrap it you start picking up on the scent from the package:
Ingredients as listed on the side of the box:
To quote a product description:
"A favorite on the sunny slopes and beaches of Europe, this soap contains lecithin, vitamin A, carotene and wheat germ oil, and helps soothe dry skin."
Unwrapping the paper shows a very nicely molded soap..and more of the scent.
Front...
..and back
I have a rather hard time actually describing the scent. Fresh and clean comes to mind but that's not really that descriptive when it comes to describing a soap. It's not a strong scent but it's very much present. It's a bit like 'detergent'..or just 'soap'. I don't pick up anything more excotic really at this point.
Deciding I needed to wash my face I went ahead and did just that.
This is where this soap comes alive. The scent is maybe not exotic but it is pleasant but the later - oh wow.
I didn't know if I was to shave right away - it's that nice and luxurious. Thick, pleasant smooth lather. I really loved how it lathered up and another benefit became readily apparent after the wash and that was how well it moisturizes.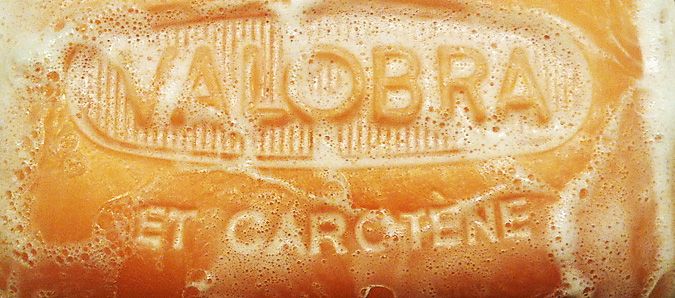 I have sensitive, dry skin. It's now about two hours since I used it and my face great and not as dried out as it normally does. There is a very faint scent lingering as well but I have to be deliberate to pick it up.
Overall a fantastic soap that I'll be happy to put into use.
---
Users browsing this thread: 1 Guest(s)