Lots for sale...
Shipping is in the USA only on this one.
Shipping costs: if it's light enough for 1st class - $3
if it needs to go priority - $6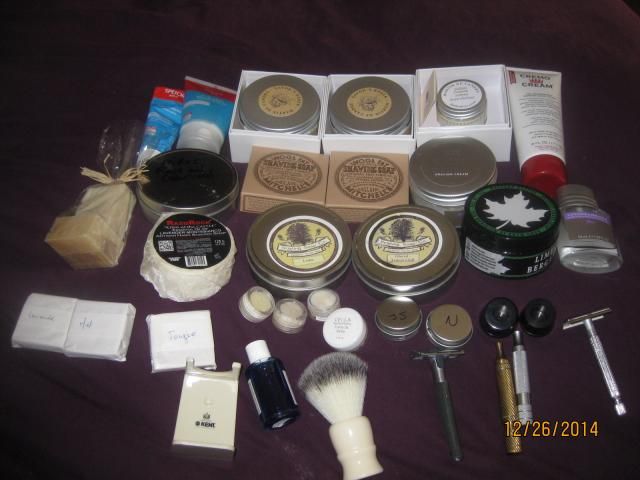 Speick cream - 50% FREEBIE GONE!
Speick balm - 98% $5 GONE!
2 Martin de Candre original NIB $55 EACH
Martin de Candre Camomile AS Balm used once $18 GONE!
Cremo Cream FREEBIE
2 MdC soaps $8 GONE!
Mike's Rose and Cedarwood in tin - 90% $9
2 Mitchell's Wool Fat pucks NEW $10 EACH BOTH GONE!
St James Lavender and Geranium Cream used 1x $15
Razorock KOTC Lavender Montebianco puck used 2x $5
Stirling Lime puck in tin - 95% $6
Stirling Glacial Lemon Chill in tin- 125% $7
Maggards Limes and Bergamot - used 2x $9 GONE!
St James Lavender and Geranium Balm used 2x $15
3 MdC soap samples - Lavender, Fougere and Liel FREEBIES GONE!
3 LASS soap samples FREEBIES
Cella soap sample FREEBIE
2 WSP samples FREEBIE
2 Razor stands- 1 Ikon and 1 Razorock $18 EACH
Kent brush stand FREEBIE GONE!
MdC shower sample FREEBIE
Whipped Dog synthetic brush $8
Gem single edge razor $5
Triad brass handle $45 (I paid $65)
Ikon bulldog handle $28
Gillette Tech $5 GONE!
FEEL FREE TO GRAB ONE OR TWO FREEBIES WITH A PURCHASE. PLEASE REMEMBER TO PAY FOR SHIPPING.
---
Users browsing this thread: 1 Guest(s)