This was my first shave with a Crowne & Crane soap. The Thuringian scent it great. The soap lathers very easily and I was able to load my brush with more than enough lather for 3+ passes. I got a very close, smooth, burn free shave…………and on the 7th day for this Gillette "Spoiler" SS blade. I am glad I tried it in spite of already having too many soaps………….
"Thuringian Forest has a very complex and manly scent profile.  It starts off with top notes of Bergamot, Lemon, Clary Sage, Aldehydes and Juniper, bolstered by middle notes of Geranium, Lavender, Orange Blossom, Clove, Nutmeg, Pimento and Red Oak.  All of those exquisite scents build upon the earthy base notes of Cedarwood, Patchouli, Sandalwood, Vetiver, Musk and Coffee.  When combined, they intermingle into an amazingly complex men's cologne fragrance that is deep, warm and woody."  
"

Ingredients: Potassium Tallowate, Sodium Tallowate, Potassium Stearate, Sodium Stearate, Aloe Vera Juice, Potassium Cocoate, Sodium Cocoate, Fragrance, Potassium Shea Butterate, Sodium Shea Butterate, Sodium Lactate, Glycerin, Tussah Silk"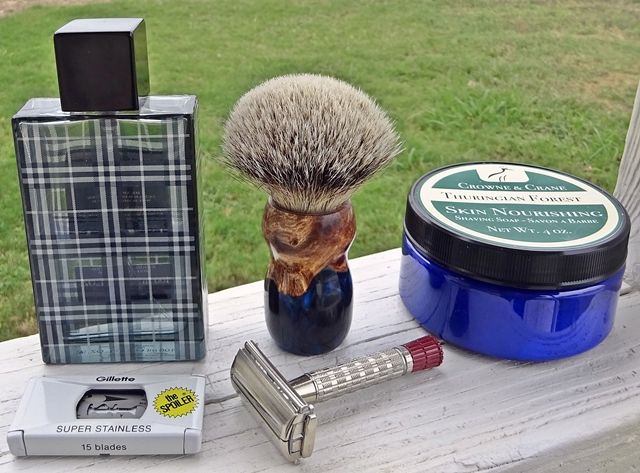 ---
Thanks for the review. Been interested in trying their soaps.
---
Thanks for the review  Bob.  I have not tried these soaps yet.  By the way, your brush looks great.
---
Users browsing this thread: 1 Guest(s)