I found a picture online of a razor I've not heard about before.
From what I can tell Myatt was/is a British company based in Birmingham, who patented their first safety razor in 1929. The Minor allegedly was manufactured in 1930, and uses diamond shaped studs to locate the blade.
What I find interesting is that the Myatt Minor is a composite razor - the top cap and handle is made from steel according to the sources I found online, but the base plate is bakelite.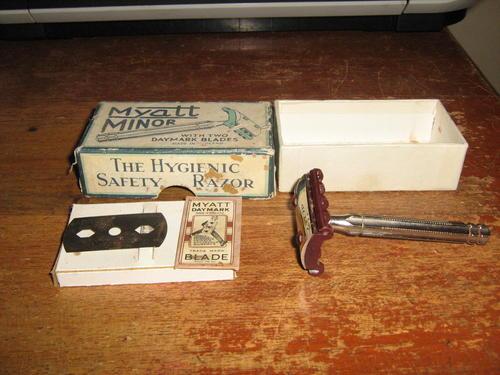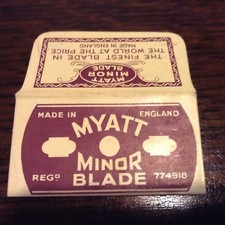 ---
That's interesting, Hans!


Some observations.

The handle in the first picture must be an aluminum made Tech handle from the 60s.

The other handles remind me of the Ever Ready handles, the one of Shovelhead to be more specific.

The case is similar to some English made Gillette sets, like the #77.
---
I recall several threads on B&B about this razor.  Very unique head design.  
There is one Myatt thread with an aluminum head that is more interesting - shape-wise, and accepts standard DE blades.  I think it was called Myatt Universal or Military.  ETA:  It's like the razor in the upper right corner of your 3rd picture.
http://shavenook.com/showthread.php?tid=1371
---
Users browsing this thread: 1 Guest(s)