---
User(s) browsing this thread: 1 Guest(s)
02-22-2013, 02:10 PM
Post: #1
urrlord
Member


Posts: 193
Trade Count: (0)
Joined:Jun 2012
Location: central georgia usa
Rise Cream
I may get lynched for this .Last week I picked up a can of this aerosol shaving cream at the Dollar Tree.I have used Rise products in the past and they always give good performance.This is no different.

I was in a hurry today and tossed the can in the sink of hot water where I had my razor soaking.I continued getting ready for my lunch date while it soaked.

I washed my face a few times and then squirted a bit onto my fingers and started rubbing it into the stubble.I continued to massage it in until the airiness of the foam had disappeared and it was the consistency of a heavy cream.This is my usual routine with canned creams.I did a pass with my Star DE and then relathered and did another pass for a really nice smooth shave.The Rise cream had its signature citronella smell.

The technique described above works really good with Barbasol also.For those times you are in a hurry and don't have time to whip up a bowl of lather.Give it a try.
02-22-2013, 02:21 PM
Post: #2
TexBilly
Moderator Emeritus


Posts: 2,705
Trade Count: (35)
Joined:Mar 2012
Location: Austin, TX
RE: Rise Cream
02-25-2013, 07:49 AM
Post: #3
GeneAut
Active Member


Posts: 252
Trade Count: (0)
Joined:Feb 2012
Location:
RE: Rise Cream
My Dollar Tree has Rise in tubes. I picked a few up a while back, but I've never used them.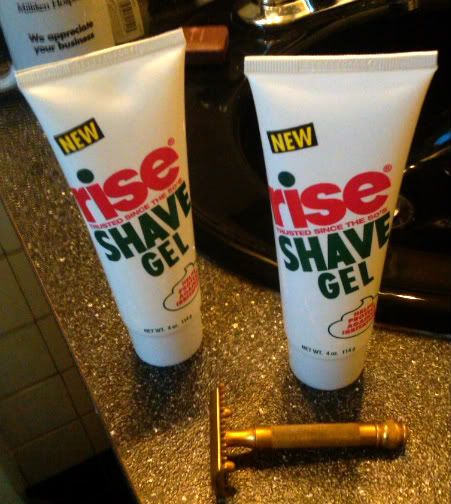 02-25-2013, 01:08 PM
Post: #4
urrlord
Member


Posts: 193
Trade Count: (0)
Joined:Jun 2012
Location: central georgia usa
RE: Rise Cream
Dollar Tree around here has Rise in can aerosol,gel and cream in tubes.The tubes are a brushless type.Although IIRC you can get a thin lather out of the gel but not the cream if you use a brush.I think the gel had a little better performance than the cream.

At one time Rise made aftershave also.A blue and a green.The blue was kind of like aqua velva.But milder.I liked it.The green I have not tried.They may still make them.But I have not seen any for 5 yrs or so.